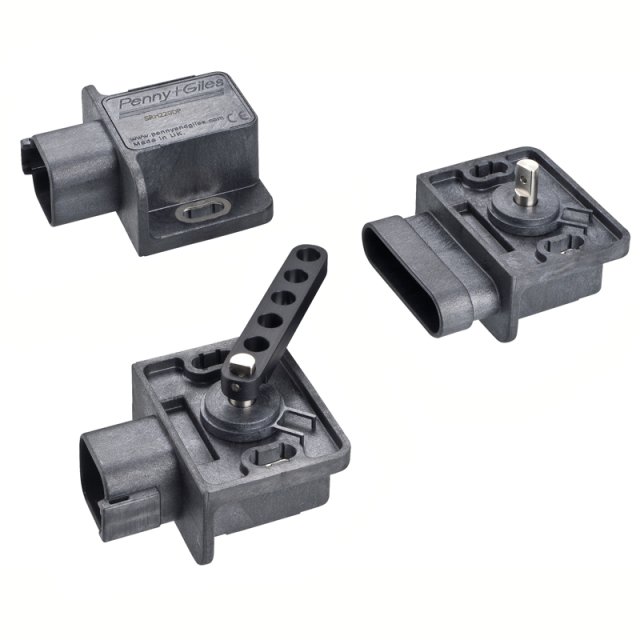 SRH220DR Contactless Rotary Sensor - Dual Redundant Outputs
DUAL REDUNDANT output contactless rotary position sensor with integrated 6-way connectors, using a factory programmable Hall effect sensor system.
SRH220DR provides reliable and accurate rotary position measurement in extreme industrial environments, such as specialist off-highway construction and agricultural vehicles, where shock, vibration and extreme temperatures can occur.

This new sensor design is housed in an all-new moulded housing that has a choice of fully integrated 6-way Deutsch DT06 or AMP 1.5 Superseal connectors, allowing separate supply voltage and output signals on two channels. Environmental protection to IP67/IP68 is dependent on the connector style selected.
SRH220DR operates from either 5Vdc regulated or 9-30Vdc unregulated power supply and is available with analog (0,1-4,9; 0,5-4,5 or 0-10Vdc) or digital (PWM) output signals. The sensor is factory programmable, allowing you to specify the output signal type, the measurement range (0-20° to 0-360° in 1° increments) and the output direction (clockwise or anticlockwise).
The sensor has a 12 bit resolution (0,025%) over the selected measuring range, and operates from -40 to +140°C when powered at 5Vdc.
Key features
• Contactless - Hall effect technology
• Dual redundant output
• 5Vdc or 9-30Vdc supply (13,5-30Vdc only for 0-10Vdc output version)
• Analog (0,1 - 4,9; 0,5 - 4,5 or 0-10Vdc) or Digital (PWM) outputs
• Measurement range from 0-20° to 0-360° in 1° increments
• 12 bit resolution (0,025%) over the angular range
• Extremely low signal noise level - less than 1mVrms
• Electrically interchangeable with potentiometers
• Operating temperature -40° to +140°C
• Environmental protection to IP68
• Crush-proof mounting flange with steel inserts
• Choice of Deutsch or AMP interconnect
• Optional lever drive arm is available
• Rapid availability