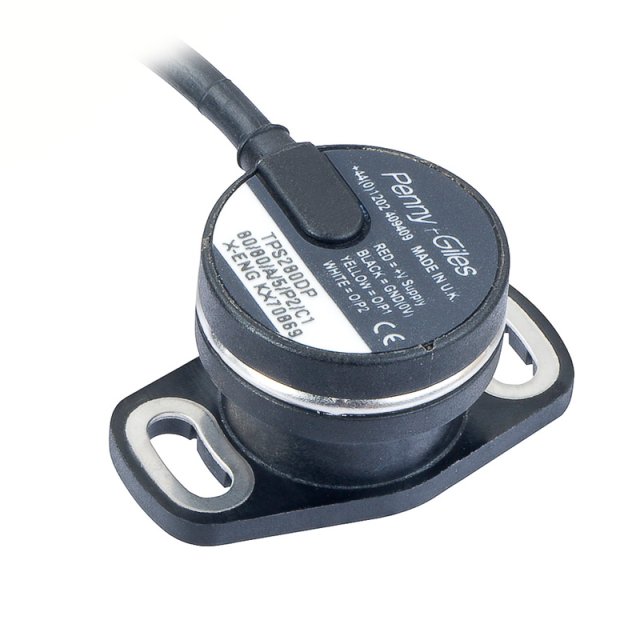 TPS280DP Contactless Throttle Position Sensor - Dual Output
Penny+Giles announces a new variant of the popular contactless rotary position sensor range, which uses a factory programmable non-contact Hall effect sensor system.
TPS280DP is designed as the modern alternative to rotary potentiometers fitted on high performance race car and motorcycle induction systems.
Replacing a potentiometer with the TPS280DP will eliminate premature failure due to electrical noise – caused by potentiometer wear. TPS280DP is life tested to 30 million cycles (60 million operations), more than NINE TIMES that of a potentiometer in this application.
TPS280DP is mechanically interchangeable with most existing throttle potentiometers using 32mm mounting centers and is designed to interface with most common throttle body D type spindles. The sensor has a choice of 200 or 500mm cable lengths, with or without an MSS4P Mini Sure Seal connector fitted to the FDR-25 sheathed spec 55A cable. With sealing to IP69K, it is also able to withstand high pressure wash-downs.

The TPS280DP operates from 5Vdc (and 9-30Vdc) and is factory programmed to allow a wide range of configurations.
Key features
• Electrically interchangeable with potentiometers
• More than 9x the life of a potentiometer
• Extremely low signal noise, for the life of the sensor
• Will operate from -40 to +140°C, with excursions to +170°C
• Sealed to withstand high pressure wash-downs (IP69K)
• Mechanically interchangeable with potentiometers on 32mm mountings
• Standard output is dual channel
• Configurable output direction, for left or right fitment
• Measurement range from 20 to 360° in 1° increments
• 12 bit resolution (0,025%) over the angular range
• Analog (0,5 - 4,5 or 0,1 - 4,9Vdc) or PWM outputs